E-Books on Estate Planning & Elder Law
---
Surviving The 'Sandwiched' Years: How To Protect Your Parent's Assets, Honor Their Wishes & Provide Long-Term Care Without Losing Your Money Or Your Mind!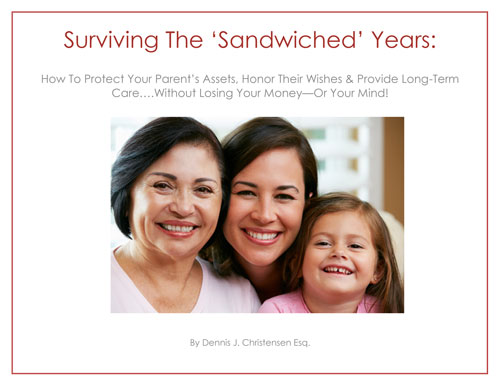 Don't Wait Until A Medical Crisis To Help Your Parents Plan For Long-Term Care
Download the latest e-book from elder attorney Dennis Christensen absolutely FREE
When caring for kids and aging parents, planning ahead is critical to ensure mom or dad gets the help they need without losing everything they've worked so hard for or placing your own financial security (and sanity!) on the line.
I've created this e-book to give you a head start in navigating the complicated world of long-term care. My goal is to steer you clear of the common mistakes and traps that bring families to my office who are financially maxed out, faced with limited options and at the mercy of the courts for permission to manage their parents' affairs and retain control.
When you download this free e-book, you will also discover:
Why Medicare will not cover nursing home or in-home health care costs and how to pay for your parents care without spending all of their money or paying out of pocket (expenses can run in excess of $8,000 a month!)
How to avoid common mistakes that can jeopardize Medicaid eligibility or expose adult children to liability for their parents long-term care costs.
Legal and financial strategies to shield your parents' assets and money from nursing homes or the state.
Why your parents' estate plan may not work if it has not been updated in past 5 years.
How adding your name to a parent's bank account or home can backfire causing serious penalties and exposure to lawsuits and creditors.
3 documents you need to manage mom or dad's affairs, access medical records and maintain control in the event of sickness or incapacity.
Key medical, financial and legal information you would never think to grab that will save you a ton of time, money and headaches in a medical crisis.
How to give your parents the gift of aging without worry or struggle!
Remember, sickness, memory loss or incapacity from a stroke or other condition can happen without warning. Don't wait to get a rock-solid plan in place to protect your parents and make your job as a caregiver as easy as possible.
Download the report absolutely free now.
---
Seven Steps To Handling Your Loved One's Estate
How to close out accounts, notify key authorities, access death benefits and begin the probate or trust administration process after the loss of a loved one.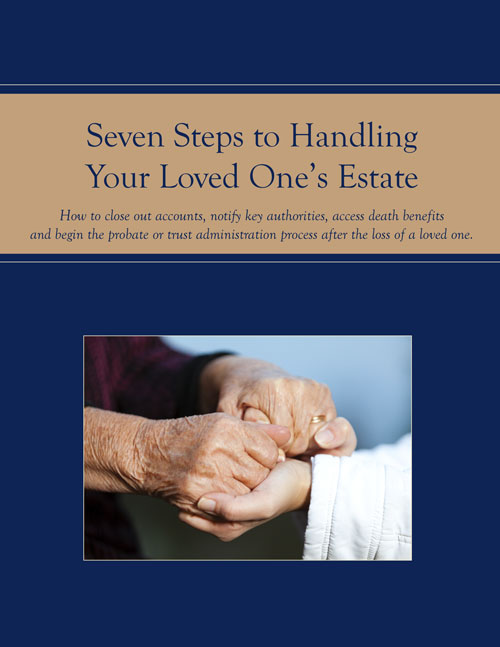 The weeks and months following the death of a loved one can be overwhelming. With so much to do legally and financially, you may be wondering where to even start and what exactly is involved in closing out a loved one's estate.
This free guide written by attorney Dennis J. Christensen is designed to walk you step-by-step through the process, starting with the seven steps you should take immediately after the loss of a loved one.
Whether you have been named as an executor, a trustee or you are simply helping someone who is, this easy-to-understand guide will help you discover:
Your duties as an executor or trustee, and how to carry them out in a way that involves the least amount of legal/court fees, headaches and delays for the estate.
The most important people and institutions to notify immediately after the loss of your loved one, and the documentation you'll need to do it.
How to deal with creditors and outstanding debt (hint: it doesn't just disappear after you loved one's death)
How to avoid personal liability from heirs or beneficiaries due to unintentional mistakes or oversights on your part during the administration process.
What is probate, how much does it cost, how do you file and which assets are subject to this lengthy and costly court process.
How to locate and apply for additional benefits that your loved one may be entitled to for burial and related expenses.
Why you as a trustee may still wind up in probate court and what to do about it.
Don't wait to learn how to close out your loved one's estate in the most cost-effective and easiest way possible. Download our free guide now to learn the seven steps to take immediately after loss.